Regardless what year, make, or model your motorcycle is, chances are you need a qualified service center to look after the maintenance needs you have. These include routine maintenance tasks that virtually all motorcycles need, as well as model-specific servicing that is recommended by the manufacturer.
If you haven't found the right motorcycle service center for you, it might help to learn what your motorcycle may need, so that you can determine if the maintenance technicians you are considering will be a good fit for your needs.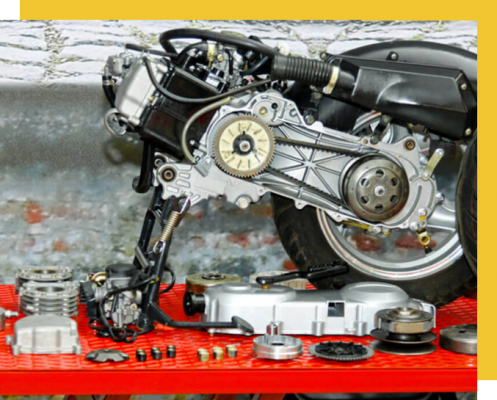 From the Front Fender to the Taillight
So, what needs servicing on a motorcycle, and at what intervals? Regardless of how old your bike is, how many miles it has on it, and what its history is, a broad range of services may be needed. However, there are some universally critical services that all motorcycles need, and we're going to briefly explain each one.
Tyres
One of the most important components of a motorcycle is where the rubber meets the road: the tyres. Servicing your motorcycle includes inspecting your tyres for any damage or excessive wear, and ensuring that the wheels are balanced correctly. Also, tyre pressure and bead seating on the rim may need to be checked, as well as tubes if the tyre uses them.
For tubeless motorcycle tyres, a simple pressure check and visual inspection of the tyres is typically sufficient.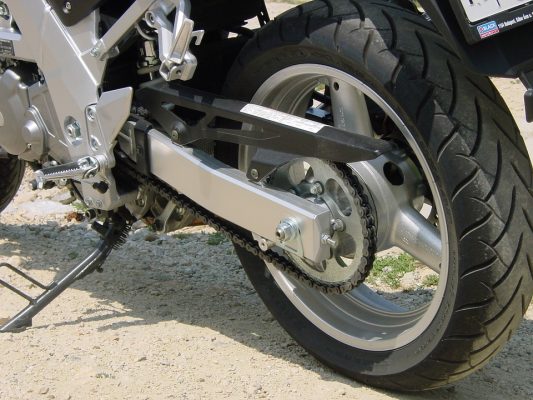 Fluids
 If you run your motorcycle long enough, the fluids within it will start to get dirty, or they might simply just drop in level. In either case, a fluid maintenance is important as part of an overall motorcycle maintenance approach. Some fluids, like the motor oil and brake fluid, need to be flushed at a set interval of mileage, which can vary according to manufacturer.
Fuel Efficiency
 Is your motorcycle getting the most out of every drop of petrol you put into it? There's only one way to be sure, and that's to have the ignition firing, carberation (if applicable), and fuel/air mix evaluated for maximum efficiency. Thankfully for you, Raceway Motorcycles has all the sophisticated equipment needed to test your motorcycle to determine the ideal modifications that may be needed.
Braking, Steering, and Suspension
The braking, steering, and suspension systems are all critical when it comes to maneuvering your motorcycle, and not a single one of these systems can be overlooked during routine maintenance. Brake pads should be inspected for wear and warping, fluid lines should be tested to see if a bleeding or flushing may be needed, and the shocks should be tested to ensure that they are still performing in accordance with the manufacturer specifications.
Lighting and Electrical
The battery, fuse box, turn indicators, headlight, taillight and electric ignition all have the potential to cause problems if they are not kept in good working order. A professional motorcycle technician will know what to look for if there are electrical shorts, faulty lights, or other issues with the overall electrical system on a motorcycle.
At the end of the day, you want your motorcycle running smoothly for as long as possible. Getting your bike serviced by the qualified pros at Raceway Motorcycles is the best way to do your part in keeping your motorcycle safe and reliable.
Contact us today on (03) 9351 0055 to schedule your next maintenance visit.